Interested in joining the tight-knit community of people who understand your experience?
Connect with others who are living with PK deficiency. Listen to their stories, share yours, and be there for each other.
PK Deficiency Webinar Series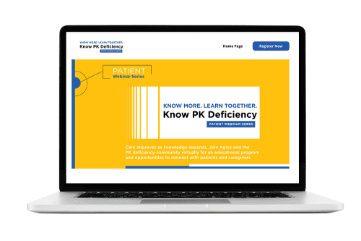 Expand your PK deficiency knowledge while connecting with other patients and their caregivers—people who understand your experience.
Sign me up
PK Deficiency Communities on Social Media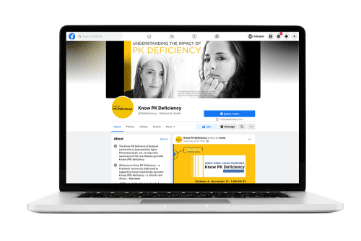 Like our PK deficiency community Facebook page and connect with people who have PK deficiency and their family and friends who support them.
Watch, learn, and share videos from our YouTube channel and see how we are generating awareness to support people living with PK deficiency and their families.
Want to see all the ways our Patient Support Managers can help you?
Tell me more
We're ready when you are.
Get answers by calling your Patient Support Manager at 1-800-951-3889, Mon-Fri, 8 AM - 6 PM, ET
What is PYRUKYND?
PYRUKYND is a prescription medicine used to treat low red blood cell counts caused by the early breakdown of red blood cells (hemolytic anemia) in adults with pyruvate kinase (PK) deficiency.
It is not known if PYRUKYND is safe and effective in children.
IMPORTANT SAFETY INFORMATION
PYRUKYND may cause serious side effects including:
Rapid breakdown of red blood cells (acute hemolysis) has happened after suddenly interrupting or stopping treatment with PYRUKYND. You should not suddenly stop taking PYRUKYND. If you have to stop your treatment with PYRUKYND, your healthcare provider should monitor you closely. Tell your healthcare provider right away if you develop any signs or symptoms of breakdown of red blood cells including yellowing of the skin or the whites of your eyes (jaundice), dark colored urine, dizziness, confusion, feeling tired, or shortness of breath
The most common side effects of PYRUKYND were decrease in reproductive hormone (estrone) in men, increased salt from uric acid (urate) blood test, back pain, decrease in reproductive hormone (estradiol) in men, and joint pain (arthralgia).
These are not all the possible side effects of PYRUKYND. Call your healthcare provider for medical advice about side effects. You may report side effects to the FDA at 1-800-FDA-1088 or www.fda.gov/medwatch.
Before taking PYRUKYND, tell your healthcare provider about all of your medical conditions, including if you:
have liver problems
are pregnant or plan to become pregnant. It is not known if PYRUKYND will harm your unborn baby. Tell your healthcare provider right away if you become pregnant or think that you are pregnant during treatment with PYRUKYND
are breastfeeding or plan to breastfeed. It is not known if PYRUKYND passes into your breast milk. Talk to your healthcare provider about the best way to feed your baby during treatment with PYRUKYND
Tell your healthcare provider about all the medicines that you take, including prescription and over-the-counter medicines, vitamins, and herbal supplements. PYRUKYND and certain other medicines may affect each other causing side effects. PYRUKYND may affect the way other medicines work, and other medicines may affect how PYRUKYND works. Know the medicines you take. Keep a list of them to show your healthcare provider or pharmacist when you get a new medicine.
Please see full Prescribing Information, including Patient Information.